Sax Connection is de toepasselijke naam voor drie saxofonisten. Zij treden op met een ritmesectie, deze keer in Heusden-Zolder. Jeanschoubs toog voor een fotoreportage naar de Belgische provincie Limburg.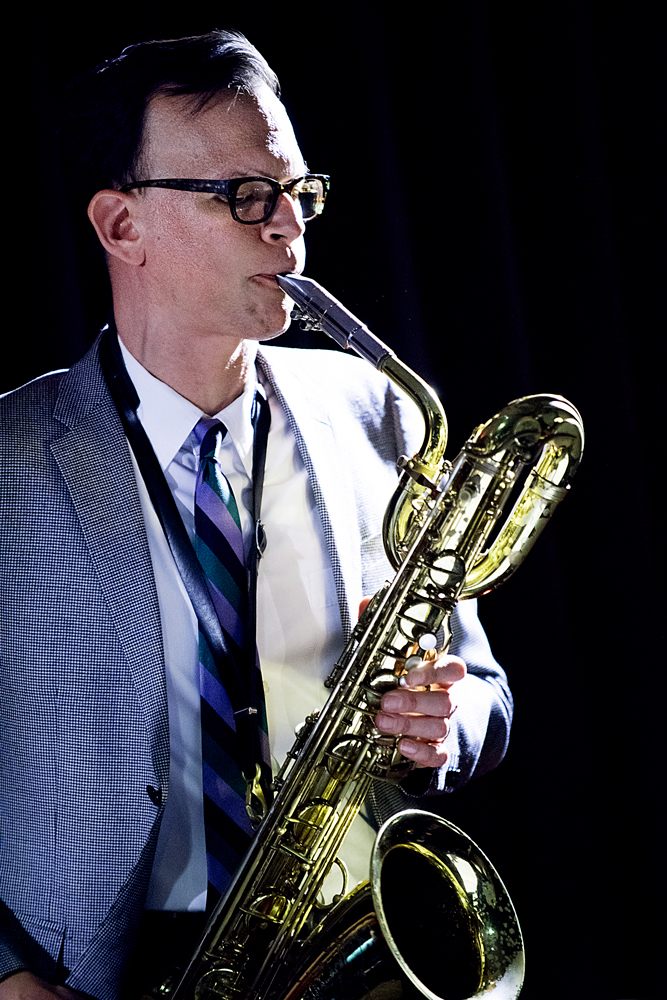 Sax Connection is een internationaal gezelschap met Belgische en Amerikaanse saxofonisten, gespecialiseerd in onversneden postbop, de mengeling van bebop, free jazz, modale jazz en avant-garde varianten. Het concept komt van baritonsaxofonist Gary Smulyan, die ooit kwartetten leidde met Roland Hanna, Kenny Washington en Ray Drummond.
Het idee voor Sax Connection ontstond bij Smulyan na een tournee door België, met een bezetting van drie saxofonisten, een drummer en een bassist. De bezetting wisselde sindsdien, maar het kwintet van nu wil het originele geluid terug van Smulyan.
Sopraansaxofonist en componist John Snauwaert deelde het podium met jazzgrootheden als Lowen Fulson en Jacques Pelzer. Als componist en muzikant werkte hij voor het Muziek Lod, Kunstencentrum De Werf in Brugge, De Vieze Gasten en circus Picolini. Ook schreef hij muziek voor animatiefilms.
Recht uit de New Yorkse scene komen Frank Basile op bariton- en Sam Dillon op tenorsaxofoon. Basile speelde onder andere met The Vanguard Jazz Orchestra, The Dizzy Gillespie All-Star Big Band, The Dave Holland Big Band en The Count Basie Orchestra.
Sam Dillon heeft meer dan twintig studiowerken op zijn naam. In 2018 kreeg zijn debuutalbum Out In The Open de status van 'one of the defining voices on the tenor saxophone today'.
REDACTIE
Foto's JEANSCHOUBS
Sax Connection
Cultuurcentrum Muze Heusden-Zolder, 24 maart '19
John Snauwaert – sopraansaxofoon
Sam Dillon – tenorsaxofoon
Frank Basile – baritonsaxofoon
Christophe Devisscher – contrabas
Bruno Castellucci – slagwerk